Nicked this from
Hannabella
who I don't think I've visited before, and who has a lovely white, grey and blue blog. I also got the same result as Hannabella did...
What Classic Movie Are You?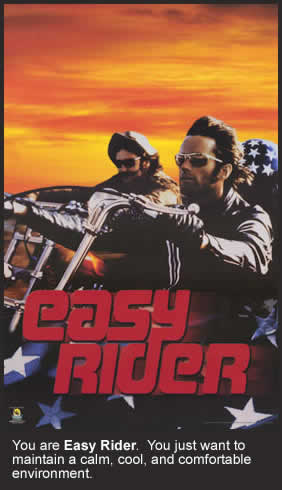 Anyone who knows me is probably chuckling away to themselves right now.
Easy Rider
indeed. I'm not sure I've even seen that film all the way through. I know I tried to watch it on
BBC2
one night, but I think I fell asleep. On a somewhat unrelated note, I
really
miss BBC2.
Liam
has set up a new communal blog-type-thing called
One Thing I Learned Today
, based around the theme of...er...well, I'm sure you can work it out. It's an interesting idea, and it'll be fun to see how popular it is. Already, I've had to resist abusing the system...
There was a brilliantly-miswritten headline on the
Guardian
website yesterday concerning cloning which I've tried to find, but haven't managed to yet. The article is about regulating cloning, but the headline makes it seem like there's a secret industry somewhere out there, churning out genetically-engineered clones of Clint Eastwood and John Wayne...