Pull Up! Pull Up! Bugger...Has Anyone Got 10p?
Many thanks to
Rob
for this one!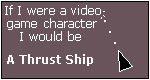 I am a Thrust-ship.
I am small and tricky - where you think I am, I probably am not. I can work very fast, but I tend to go about things in a round about way, which often leaves me effectively standing still. I hate rocks. Bloody rocks.


What Video Game Character Are You?

I seem to be getting into a rut with these things. I promise that I shall blog properly at some point.